Want to know about SLC's OET preparation services?
As Europe's first accredited Premium Preparation Provider, we work directly with OET to make sure our materials, assessments and teaching are up to date, including readiness for the new test format in September 2018.
We offer group courses, one-to-one coaching, online self-study, and practice tests. To see what would suit you, download the brochure which meets your needs.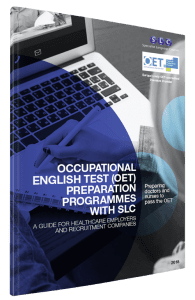 Organisations
(NHS Trusts, private healthcare organisations, hospitals, healthcare recruitment companies)